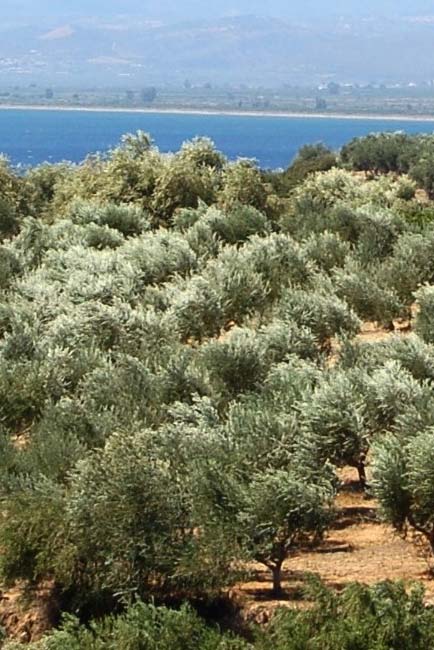 Olives are the most important agricultural crop of eastern Crete with 2.5 million olive trees covering an area of ​​11,000 hectares (27.000 acres), which corresponds to 80% of all cultivated trees in the area. Annual production of olive oil ranges from 10,000 to 15,000 tons more than 90% of which is extra virgin; fruitiness is of medium intensity, with the bitter/spicy elements intensifying as cultivation altitude increases. Sitia EVOOs are invariably harmonious making them favorites for chefs.
While on the plains of Sitia the olive tree might face some competition from the grape, on the mountain slopes it is basically a monoculture. The main reason is climatic: conditions here are Mediterranean to the extreme, with lack of water (rainfall is low even during winter), lots of sunshine (the highest in Greece, with an average of over 2,800 hours per year), low relative humidity, high average temperatures in summertime and mild winters. This climate has existed for centuries and explains the presence of several clusters of centuries-old olive trees, still in production.
Cultivating olives is the major occupation of a large part of the local population: it is estimated that 10,000 families make a living from growing olives in eastern Crete, cultivating almost exclusively one varietal, Koroneiki. Another varietal, tsunati or muratolia as it is locally known, corresponds to 5% of cultivated areas.
Why in Sitia?
Olives are the most important agricultural crop of eastern Crete with 2.5 million olive trees
The province of Sitia was very important in antiquity, as evidenced by archaeological discoveries. The area is mentioned in almost every reference from the Minoan times, during which it is certain that the olive tree was already cultivated in the area. Furthermore, the port of Zakros was one of the hubs of the Minoan period and it is theorized that the spread of the olive tree throughout the Mediterranean may have started there.
Going further back, the area's geological history as evidenced by rock formations in countless ravines, caves and gorges, draws scientists from around the world. Almost the entire Municipality of Sitia has been recognized as a geopark (part of Unesco's network) and the fact that Sitia's olive grove is essentially a part of it, is certainly unique in itself.
Sitia has a rich cultural tradition in music and dance and is home to one of Greece's famous poets, Vikentios Kornaros, who wrote the love poem Erotokritos in the early 17th century, a masterpiece of Greek Renaissance literature consisting of 10,012 fifteen-syllable rhymed verses, that many people in Crete still learn by heart.