ATHENA IOOC is a constantly growing international olive oil competition and the only one of its kind organized in Greece. It has gained the trust of hundreds of producers from all olive growing countries and the respect of the most renowned international olive oil judges. Some of them have even ranked it among the three most important international olive oil competitions in the world for several years.
In 2023, its 8th edition will take place in the city of Kavala, which belongs administratively to the region of Eastern Macedonia and Thrace, a region where olive groves are developing significantly.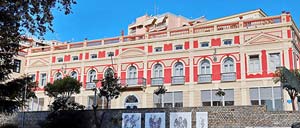 The Great Clubhouse of Kavala was built in 1909 and was inaugurated the following year as a clubhouse of the city's Greek community. It is built in the Austrian Baroque style, being an excellent example of it, evoking elements of the Vienna "Musikverein" Music Hall, especially in its honey-colored hues. In later years the building housed the banks of Athens and Ioniki, the latter having done its first renovation. Following that, it became an army officers' club and then a club for the city's tobacco merchants. More recently it was a public library and a social care center. Now days it is used by the City of Kavala as a venue for cultural events.